Shawn is an excellent negotiator
Shawn & Kym Kristofer make an excellent real estate team. Both have very good communication skills without coming on too strong which can be of-putting. Their attention to all the necessary details and procedures was excellent. Kym communicates well with the more feminine and appealing aspects of the property whilst Shawn has a very good grasp of all the background details. This includes the processes and the logic to apply to the sale method as well as the realistic limitations to the price that we could expect. Shawn is an excellent negotiator which was so important in getting the best result for our sale.
Alan & Gerry
Great service, delivered results
Shawn and Kym helped us through all stages of selling our property, from initial advice about how to prepare our property for presentation, to management of the marketing process, negotiating with potential buyers, and ensuring that each of the milestones were met with minimal drama. Shawn and Kym were great communicators, were always friendly, and didn't mind how often we contacted them. Their advice was sound, not only for us as sellers, but also as buyers. We recommend Shawn and Kym as people that can be trusted.

Philip & Dorothy
sold within a week of hitting the market at 20% above the value
I have no hesitation in recommending Shawn and Kym Kristofer as professional, knowledgeable real estate agents. Without the advice and sales strategy they provided, I know I my home would not have sold in such a short time frame, nor would it have achieved such a great price. By investing in their suggested upgrades, ensuring the home was professionally dressed and following their sales strategy the house sold within a week of hitting the market at 20% above the value given by other real estate agents. It shows what genuine enthusiasm and local knowledge can achieve.
Lynne Q Manly
Honest professionalism
We were both impressed with the whole process delivered by Shawn and Kym, their honesty, professionalism, their listening skills, and their business ethics were first class. We would have great confidence in recommending them to anyone wishing to sell or purchase a home and looking for the best possible people for the job.

Neil & Marilyn
they got us a better price than we had hoped for
Shawn and Kym are honest, intelligent agents, who genuinely care about the outcome for their clients. When we sell next, they are the agents we'll be using. Your house is the biggest asset you'll ever have and I wouldn't trust the handling of that to anyone else. When it came to selling our house, they had an extensive knowledge of the area, were spot on with their advice on preparing the home for sale, timing the sale & valuing of the property, and they got us a better price than we had hoped for. Their advice through the whole process was welcome and reassuring. I can't recommend Shawn and Kym highly enough!
Nicole & Paul
...dealing with Kym and Shawn was very easy - they are real people, completely upfront and professional...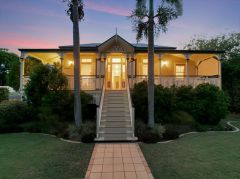 We chose Shawn and Kym to sell our house because of their enthusiasm, professionalism, local knowledge and friendly personality. We don't live in Brisbane and we wanted to have an agent we could rely on. From the time they were appointed, Kym and Shawn were always organized and kept us really well informed, both of anything we needed to do as owners, and of how the campaign was going. The weekly reports were very useful in seeing who was interested in the house and what they thought of it. Other people (trades, home styling) that were recommended to us by Kym to bring the house up to scratch and show its potential all did a great job. We went to auction and sold on the day, and the auction attendance was excellent, showing what a good job Shawn and Kym had done. I guess the best thing for me was knowing that everything was being well managed and I didn't have to worry about anything, and that dealing with Kym and Shawn was very easy - they are real people, completely upfront and professional. I recommend them without any hesitation as sales agents for your home.
Matt Ford
substantially exceeded my hopes and expectations
When, sadly, my elderly mother passed away in June of this year, my immediate thought was to contact Shawn and ask him to facilitate the sale of mum's property for us. Once again, Shawn went about creating a marketing programme which resulted in the property being sold at auction on Saturday, 7 September, for a sum which, once more, substantially exceeded my hopes and expectations
Tony Cheal
nothing was ever too much trouble
I was so impressed by your constant feedback and follow up and nothing was ever too much trouble. The family dog will also miss your kind words and pats!
Rebecca Fraser